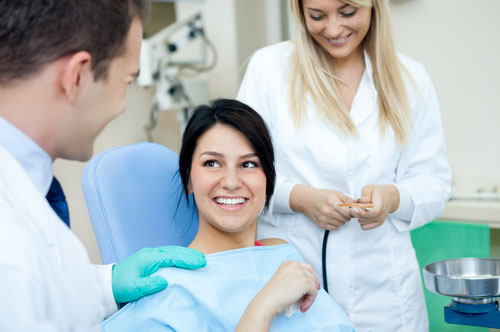 Just checking in to make sure you get a dental cleaning and exam at Yellowstone Family Dental on the books this spring!
Our team in Billings, MT are looking forward to your next visit!
Before your appointment, we want to make sure to give you three quick reminders about what to ask one of our dentists so you get the most out of your dental care.
Reminder #1 – Ask About An Oral Screening!
April is Oral Cancer Awareness Month, so now is the perfect time to get a screening!
We can detect your oral cavity for all the early red flags only our advanced technology can catch. This will optimize your oral health and your chances for surviving an oral cancer diagnosis.
It's all about early detection, which means you should ask our team if it's time for your next screening!
Reminder #2 – Explore Your Tooth Replacement Options!
We have some of the most skilled, experienced dental professionals in the area. How that affects you is that you're getting diverse input about all the best possible solutions for replacing your missing teeth.
It doesn't make a difference if you've lost just one tooth, or you need an entire arch replaced, the method you choose must be the one that suits your dental needs and smile goals.
That requires a team like ours at Yellowstone Family Dental and the technology we house in our Billings, MT dental office.
We offer a variety of dental implant strategies so your bite is strong, lasting, and your replacements are comfortable and attractive!
Reminder #3 – Learn More About Our Dental Sedation!
Maybe you're brave enough to maintain routine dental cleanings and exams.
We applaud you for that! It's not something everyone can do easily.
If you feel like dental check-ups are as far as you're able to go for your oral health, that means at some point, you may stop coming to the dentist.
That's because if we should happen upon some sort of dental problem, such as a cavity or infection, you not have the courage to get the treatment you need.
This is more common than you think.
At your next appointment, please ask about our options in dental sedation!
You'd be amazed at what's available to you in our Billings, MT dental office, namely our various sedation methods that can help you feel completely relaxed so you can get through your procedure with ease.
Schedule Your Visit!
Don't let too much time go by between your regular dental cleanings and exams! Remember that when it comes to your health, proactive is the best approach.
That means trusting our team at Yellowstone Family Dental to help you preserve your oral health.
We have the skills and technology to give you a thorough oral exam so we can check for any signs of problems and treat them immediately to keep your health on track.
Call our Billings, MT dental office today at 406-245-7026 or contact us online to schedule your next dental check-up!